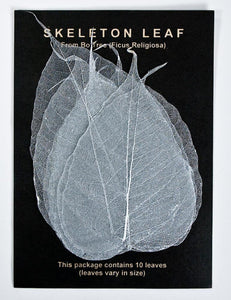 Bo Leaves - Silver
These "skeletonized" leaves are made by soaking fresh leaves in bleached water for a few weeks before very carefully rubbing the green substance off without damaging the delicate network of veins.
Bo leaves come from the sacred fig tree, the same species under which Buddha is said to have sat when he attained enlightenment. Their beautiful heart shape make them a wonderful accent for crafts, cards, giftwrap, etc.
These leaves are colored metallic silver. Each leaf measures 6-7in in length, 10 leaves per pack. Exact sizes vary due to nature.
Single Pack: Please order in quantities of 3
Bulk Pack: Please order in quantities of 1
---
We Also Recommend
---